Uzuri Wood Clutch Colleciton
Culturally Connected: Morocco
FEATURED: Authentic Handmade Accessories from North Africa. Click to see more Moroccan finds. .
Hammered brass earrings from Africa. See a video of the makers on our Instagram page.  Note: Handmade items are not perfectly uniform. There will be some very minor differences because a...
New Drop! Rare Vintage Handbags
Shop our curated collection of rare 1980's vintage bags from Sharif, NAS, and Carlos Falchi.
Empress Stacks Collection
Feel chic and powerful in this rare chunky Pearl and chain link bracelet. Stack her with any color combination to add a little luxe to your wrist. Worn gold finish. ...
Simple and sophisticated stone bracelet with soft, unpolished finish. Features a metal leaf bar with a worn finish on an easy to stack, elastic band. Pairs well with the Golden...
Honoring the Hyphen....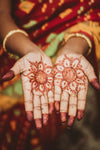 1
Edu-Culture
We believe that our cultures are what creates enriched life experiences. It all starts with educating each other.
Learn More

2
Empowered Exchanges
Introductions can be difficult. But we believe in creating safe spaces for women to have honest dialogues.
Share Your Story
3
Eco-tistic
From our packaging to our love for vintage restoration...we are making strides to become carbon neutral.
Explore Eco-Love
Summer Spirit Festival
Tasha wearing our tubed tribal jumpsuit
UCLA Jazz Festival
New Friends shopping the racks
Poppy Festival
New friend tried on our vintage 70's mini dress!
Reggae on the Mountain Festival
New friend bought our Genie Bae jumpsuit and wore it for the festival
USC Greek Festival
New friends with Emorie Jordon owner (Lahna)